On December 26th at 12:17am EST, we will experience our last eclipse of the decade as the Moon passes between the Earth and the Sun and showers us in powerful celestial energy that is here to help propel us into an abundant 2020.
A solar eclipse occurs when the Moon, Sun, and Earth align, and a portion of the Earth becomes engulfed in the shadow of the Moon as it blocks sunlight from touching down on its surface.
A portal of completion and resurrection
This Solar Eclipse falls in conjunction with the Capricorn New Moon, creating a portal of completion and resurrection. We will be stepping into a great awakening making it easier to level up and move forward and providing us with the clarity that we need to see and learn from the world. This Solar Eclipse marks the end of a cycle that began on July 2nd and is one of the greatest eclipses we have experienced in a long time due to its deep-rooted connection to Jupiter. The effects of this are incredibly powerful and will last approximately six months instead of the usual four weeks.
This Eclipse is surrounded in growth, abundance, and good fortune and blesses us with the opportunity to make the positive changes that we need to make in order to move into 2020 with confidence and excitement. We are being asked to reflect back on all of the progress that we have made this year and this entire decade and radiate our gratitude back into the Universe. Real change has happened for us and we no longer have the time to harbor that which no longer serves our souls or humanity. With each passing day we are getting more and more in sync with the divine timing of our physical reality. 
Time to spread the wings and fly high towards new exciting and magical beginnings
With this Solar Eclipse conjunct Jupiter, we will be blessed with newfound enthusiasm and happiness. Jupiter is the planet associated with growth, prosperity, and good fortune so with its conjunction to this cosmic shift, it will feel like pure magic is in the air. The Universe is providing us with the energy that we need to spread our wings, soar to new heights, and experience all that life has to offer. This is a time for expansion of self and starting something new.
We will feel a tug at our heartstrings to grow spiritually and develop a deep understanding of our soul's true nature. Every possibility and opportunity is at your fingertips and the cosmos is aligning for you. Believe in your divine connection to everything around you, believe in the magic that radiates from your being, and watch the world unfold before you in perfect synchronicity.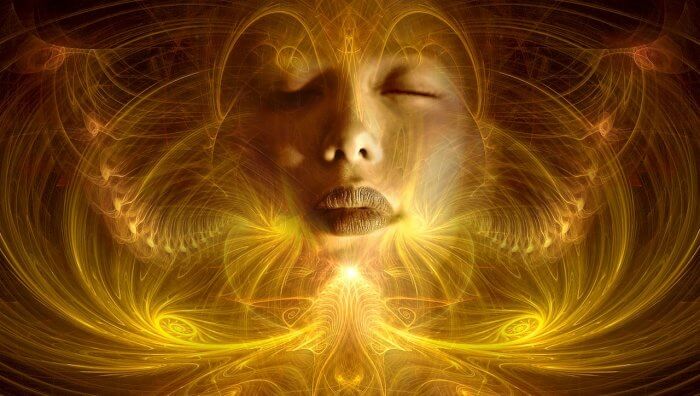 The aspect of this Solar Eclipse trine Uranus further amplifies this abundant energy by heightening our sense of intuition and providing us with the flashes of insight that we have been seeking. All that you have been praying for is about to come to fruition and you are about to experience the most exciting and uplifting time of your life. This celestial aspect is incredibly powerful because it helps to unleash your true self into the world.
You're going to surprise yourself with just how much love and prosperity you can bring to this world and everyone around you when you allow yourself to freely be just as you are. The Universe wants to help propel us into this next decade with the increased self-confidence, self-love, and sense of adventure that we need in order to realize our wildest dreams. You are about to leave your comfort zone behind and revolutionize your life. Chance encounters often lead to our greatest blessings.
Surrender. Trust. Flow..
Jupiter plays an incredibly powerful role in this Solar Eclipse New Moon. With Jupiter trine Uranus, we will get one final push from the Universe to let go of our expectations and trust in the divine path before us. If you tend to be a more conservative or shy person, this planetary aspect will help you loosen up and go with the flow. You do not have to always be in control of everything around you. Give yourself permission to just be. To just exist as a soul wanting to experience as much as possible while you inhabit this body.
Think of all that you have already accomplished. Think of all of the beauty that surrounds you and the incredible people that love and care for you deeply. Think of all of the progress you have already made towards deep self-love and self-actualization. Once you let go of how you expect your life to go and loosen your grip, you learn to trust in the power of the Universe and you begin to be led not by your mind, but by your heart and your Higher self.
Turn inwards, reflect, define yourself, lighten your soul and open yourself up to channel the abundance that this next year brings.
If you have been feeling any recent stagnation and have been experiencing anxiety, now is the perfect time for meditation and journaling as these can help provide you with a burst of newfound energy and bless you with a spiritual growth spurt and expanded awareness.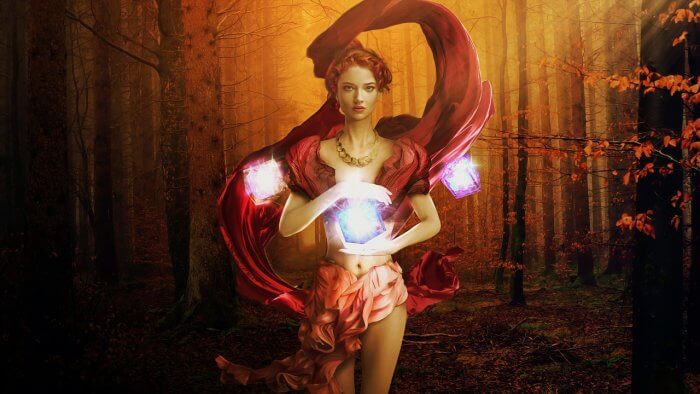 During this final Solar Eclipse and New Moon of the decade, movements, changes, and shake-ups can unfold before us quickly as we are being asked by the Universe to define ourselves, figure out what we no longer need to bring along with us on our journeys, and set our intentions for the following year and decade.
This planetary alignment is all about completing the chapter that we are in, closing this book, and beginning to write our next one. We are being asked to turn inward and reflect. What have we mastered this year? How have we grown?
With the start of 2020 upon us, we are being taught our final lessons of the year. This is the perfect time undergo significant endings, question old habits, and make a fresh start as you do what is needed to lighten your soul and open yourself up to channel the abundance that this next year brings.
This is the right time to set your intentions for the year and watch the Universe present you with just what you need. We are making the last-minute changes that are needed to set us up for an incredible new year filled with promise, good fortune, miracles, and pure joy. 
To assist & guide you through this season of endings and new beginnings, closing 2019 and stepping into 2020, we have created a New Moon Solar Eclipse channeled guided meditation and reflections/intentions journal. Tap to Access.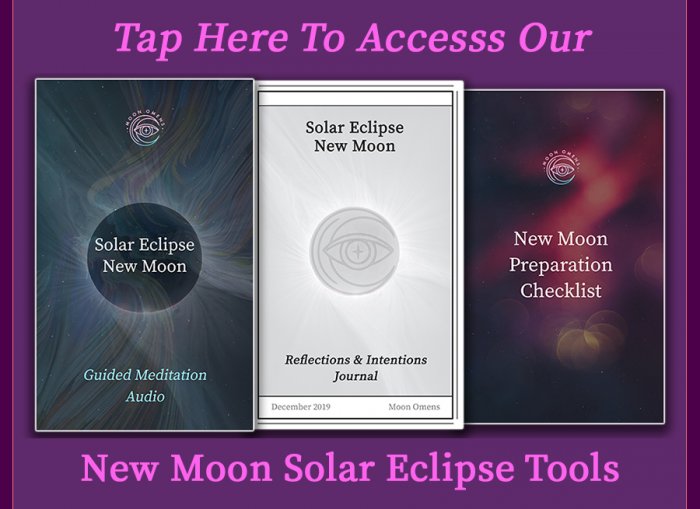 Also, give this blog a heart if you found it helpful and comment below what part stood out the most to you 🙂
Love & Blessings,
The Moon Omens Team