Full Moons bring Clarity, Revelations, and New Understanding
Full Moons represent the maturation point of the lunar cycle. At this time, we see the results of our work and witness how the intentions we set on the New Moon have been unfolding, and where our efforts have led us. 
Clarity is often experienced around this time of the month, as the light of the Sun, our conscious awareness, fully illuminates something we normally don't see, our subconscious, our emotional world. Revelations and new understandings about our experiences are likely these days, and something may come full circle. From now on, the Moon begins to wane, the energy shifts, and the Cosmos invites us to slow down the pace of our lives as we gradually release our intentions for the current lunar cycle and prepare for the next New Moon, coming up in two weeks.
Full Moon in Gemini: Digesting Information & Refining Communications
Full Moons always involve an opposition between the Moon and the Sun. In this lunation, retrograde Mars is an integral part of the configuration, also opposing the Sun in Sagittarius. The spotlight is on the Gemini-Sagittarius polarity, the axis of learning, making sense of reality, and finding meaning in what we experience.
Gemini has a lot to do with communication and this Full Moon in the sign is bringing to our attention our communication patterns and in particular to our style of self-assertion. It is inspiring reflection and reconsideration around how we tend to express our emotions and our needs, desires, and ideas. We have an opportunity to explore alternative and more mature ways of doing so, and to pay more attention to what happens when we get emotionally triggered and how we can respond with more awareness and care.  
Full Moon in Gemini conjunct retrograde Mars: Emotional Turmoil & General Reactivity
When the Moon is in Gemini, the inclination is to make sense of our emotions through the filter of logic and rationality and there can be a tendency to intellectualize what we are feeling rather than simply allow emotions to exist and flow. We may feel a need to ask for others' opinions about what to do with what we are experiencing emotionally or we may feel drawn to try to make sense of it by studying, reading, and gathering information.
This lunation comes at a time of intense emotionality, impulsivity, and reactivity. These qualities are indicated by the proximity of the Moon to retrograde Mars, exactly conjunct at 16º Gemini. At this time, we may be experiencing some emotional and mental turmoil, high reactivity, and impulsivity: we may feel unable to be patient and wait for things to settle or unfold before we act or react. These days, we may notice a strong emotional attachment to our desires, a feeling of wanting everything now, wanting it too bad to wait.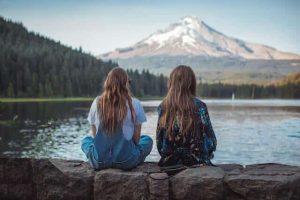 Mars being in retrograde motion suggests that this is still a time to evaluate, study, and analyze what's needed before making a move so that when we act we do so with clarity, focus, and confidence. It is an invitation to reflect on how we can take action on our ideas, what options we have, and what's needed for us to get where we aim to be. This lunation is an opportunity for us to contemplate the nature of our emotions and desires and explore the true intentions, motivations, wounds, fears, or needs at the root of those desires and emotions we immediately recognize.
Contemplating the Nature of our Anger and Desires
Mars has been quite active lately as he was recently opposing Mercury and Venus in Sagittarius and has been in an ongoing square to Neptune since October. These alignments have been bringing relationship and communication issues to the forefront while highlighting the challenges of harmonizing our needs, values, and desires with those of others.
Mars retrograde can correspond with a sense of pent-up energy building up, that has the potential to explode or implode around the time of this Full Moon. These days, we are likely to have opportunities to reflect on our relationship with anger, and on the role of anger as a protective emotion that masks a well of grief and covers wounds that are too painful to feel. We may explore how to direct the energy of anger to our advantage instead of releasing it destructively onto others or letting it damage us internally. This Full Moon is a chance to be curious about our anger, what her role is, what she would say if she could speak, what she needs, how she wants to move, and where in our bodies we feel her the most.
As the Moon joins Mars, we are being encouraged to explore the link between action and emotion, and ponder on when it is appropriate to act spontaneously, following the waves of emotions, and when instead impulsivity can be dangerous or destructive, and rationality should lead. 
Full Moon square Neptune & trine Saturn
The Full Moon is in a square aspect to Neptune in Pisces. This alignment highlights the importance of emotional boundaries, of being committed to discerning what feelings are ours and what feelings are not ours, of not automatically matching the emotional tone of the environment we are in but instead making an effort to remain grounded in our frequency. Hard Moon-Neptune contacts indicate the need to reflect on how we are dealing with other people's suffering and notice whether we feel drawn to immediately try to fix them or save them when we perceive or sense their discomfort. These aspects invite contemplation surrounding where we may be stuck in a victim or rescuer mentality, and maybe ask ourselves whether our habit of caring for the emotions of others could be a way to avoid feeling our own. 
The trine from the Moon to Saturn promotes an objective and rational outlook on emotional matters, emphasized by the fact that this aspect is happening in Air signs. This alignment invites us to focus on our emotional maturation process and the journey of consciously reparenting our inner child. The activation of Saturn supports our patience and our awareness of the value of delayed gratification and contributes to counterbalancing the reactive influence of the Moon-Mars conjunction.
Mercury square Jupiter, Venus square Jupiter & Neptune
Mercury, the ruler of the Full Moon, is now in the early degrees of Capricorn and in a square aspect to Jupiter in the last degrees of Pisces. Mercury being in Capricorn contributes to grounding the energy of the Gemini Full Moon conjunct Mars, supporting a mature approach to communication dynamics and adding more structure to our thinking. The square to Jupiter is an aspect that invites us to be mindful of impulsive speaking, excessive directedness, and a tendency toward exaggeration or dishonesty. The Mercury-Jupiter square also fuels our desire to learn and share what we have been learning with others.
As the Full Moon takes place, Venus is also in a square aspect to Jupiter and separating from a square to Neptune. These alignments underline the importance of being mindful of excessive indulgence, spending, and idealization of other people. It may be valuable to ask ourselves whether our generosity and our desire to give may be linked to a desire to feel loved, needed, or get the same back in return. We are likely to have opportunities to relinquish projections and establish adjustments in how we relate with others, particularly in the balance of giving and receiving.
Full Moon in Gemini: Learning from Triggers
We are experiencing the culmination of a cycle of learning: we are learning about ourselves and our inner mechanics, we are learning about our emotional makeup, we are exploring different ways of dealing with and expressing our emotions. We are learning to let ourselves feel anger, frustration, and sadness, we are learning to let ourselves feel excitement and joy. We are getting familiar with our triggers and our old wounds and with how we tend to respond when emotions from our past resurface and get activated. 
Triggers are likely to come up these days, and this is not something inherently bad or dramatic. We will have chances to learn from them and discover new ways of navigating conflicts, confrontations, misunderstandings, and disagreements. The invitation of this Full Moon is to strive to be curious and open-minded rather than reactive, and her reminder is to not underestimate the weight of words.
Comment below with what resonated with you the most and give us a like if you enjoyed this article!
If you would like to dive even deeper into current energies we invite you to watch our 1 hour long video: