On May 30, 07:30 AM ET, we experience a New Moon at 9°03' of Gemini, which brings our attention to the power of the mind and invites us to open our hearts to new beginnings, new experiences, and new opportunities. This is the first New Moon after the New Moon Solar Eclipse in Taurus we had on April 30 and it closes the Eclipse portal.
When the Sun and the Moon align on the same degree of the same Zodiac sign, New Moons take place. The Moon has been slowly disappearing from the night sky, receiving less and less light every night: during the upcoming days, she will begin to be visible again. New Moons are new beginnings: when the Moon is Dark, it is an invitation to turn inwards, tune in with ourselves, plant seeds for the future, and set intentions for the upcoming lunar month. 
The Gemini New Moon invites us to Keep it Light
The Gemini New Moon inaugurates a phase of spontaneous action, instinctive exploration of life, and discovery of our desires that will culminate with a Full Moon in the opposite sign of Sagittarius on June 14. After the emotional and psychological intensity of the Eclipses in Taurus and Scorpio, the New Moon in Gemini shifts the vibe, adding cheerful and lighthearted energy to the current times.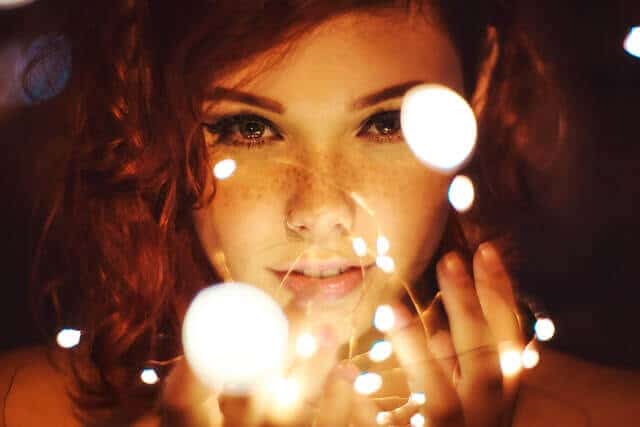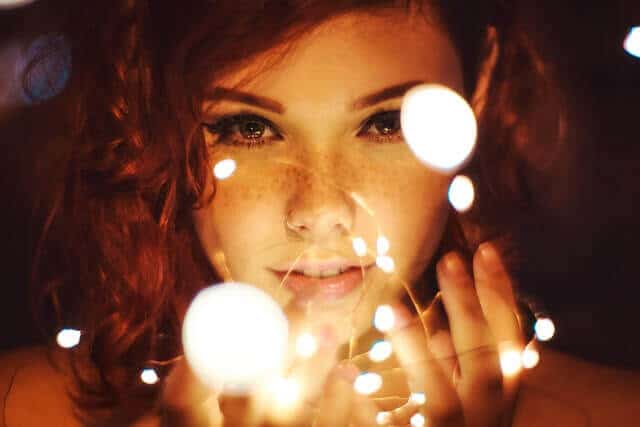 As a Mutable Air sign, Gemini reminds us to keep it light, to take it easy, and to be curious, flexible, and open-minded. The third sign of the Zodiac correlates to the process of gathering data, collecting information, logically making sense of our surroundings, verbalizing our inner experiences, and communicating them to the outer world. Gemini inspires us to pay attention to the words we use, to how we articulate and verbalize our thoughts, and to how developing a conscious relationship to language can help us experience life differently. 
New Moon in Gemini: the Power of the Mind
The Gemini New Moon begins a lunar month during which there will be a significant focus on communications and exchanges of information. This lunation invites us to take care of the way we speak both with ourselves and with others and to keep in mind how powerful our mind is, and how deeply our habitual thinking patterns affect our feelings and perceptions. 
This New Moon reminds us of the power of our intellect, and of how important it is to take care of our mindset and of our attitude. During the upcoming weeks, we will have opportunities to gain awareness of our habitual ways to perceive, share, and interpret what is happening in our reality, and we may feel drawn to reflect on how working on changing our perceptions has the potential to change our experiences. 
Sun & Moon sextile Mars & Jupiter: Dynamism and Courage
The Sun and the Moon in Gemini are sextile to Mars and Jupiter in Aries, tightly conjunct, inspiring us to be courageous, daring, and bold. The emphasis on the Air and Fire elements increases our need for space and constant motion: it invites us to break patterns that generate inertia and encourages us to follow the flow of life.
These alignments support our energy levels and add a dynamic quality to the lunar cycle that is starting. Sun and Moon sextile Mars and Jupiter ignite our desire to learn more about how life works and make new experiences, inspiring us to discover new perspectives and get familiar with different systems of knowledge and ways of making sense of reality.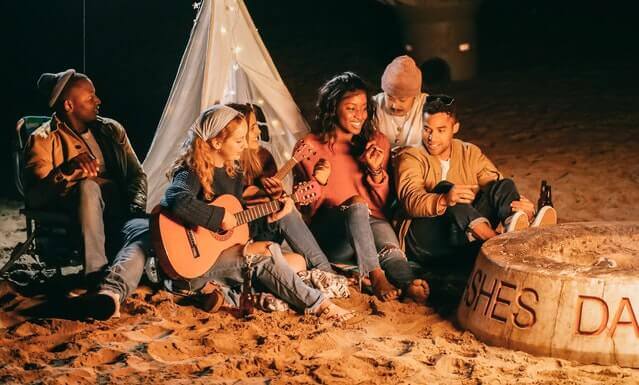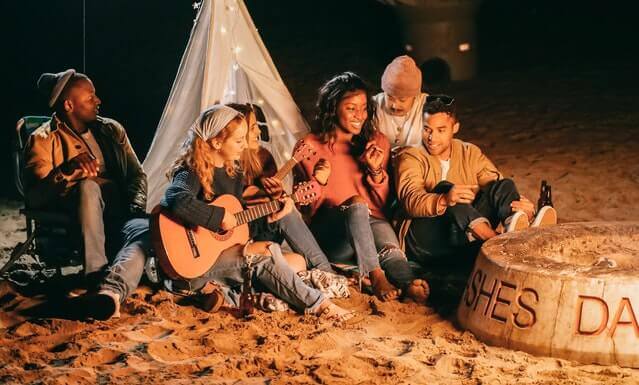 The Mars-Jupiter conjunction magnifies our need for freedom, inspiring a spontaneous exploration of our desires, and increasing our urge to expand our horizons. Themes of individual freedom and freedom of choice are likely to be in the spotlight. A drive to break free from restrictions and oppression, an urge to fight for what we believe in, the impulse to defend what is true for us and to protect our rights will emerge. 
Mars conjunct Jupiter in Aries corresponds to a strong inclination to break new ground, start new chapters, and learn from our direct experiences. Excessive impulsivity could be an issue around this time, and it is advised to take care of not taking unnecessary risks.
Retrograde Mercury is the Ruler of this New Moon
The Gemini New Moon is ruled by retrograde Mercury, currently in Taurus. Mercury being in retrograde motion represents an invitation to question habitual ways of thinking, learning, and perceiving life during the upcoming lunar cycle. Mercury's backward journey through Taurus inspires us to question our value system and put into discussion those ways of thinking that we hold on to as a way to feel secure. 
This transit highlights the importance of exploring the practical application our ideas can have. It helps us be realistic and pragmatic, rather than getting excessively carried away by our imagination without applying our insights. Retrograde Mercury's journey through Taurus offers us an invitation to break free from outdated values, relating patterns, ways of thinking and doing, and security attachments that restrict our freedom. It is an opportunity to work on our mindset and to reflect on the value of our time and our attention, on how we invest our mental energies, on the kind of information we choose to consume and how that affects our state of being. 
Mercury square Saturn, Mercury trine Pluto, & Mercury conjunct the North Node
Mercury is very active these days, as it is forming a square to Saturn in Aquarius, a trine to Pluto in Capricorn, and is approaching a conjunction with the Lunar North Node. The Mercury Saturn square can correspond to a sense of being restricted in our communications, of not being able to find the right words to say what we feel, or feeling silenced by external sources, restrictions, rules, and regulations. This aspect also inspires us to reflect on whether our ideas and plans can have a practical impact and useful function within the social structure.
The Mercury-Pluto trine deepens our psychological understanding of ourselves, others, as well as of the fabric of the changing social structure. This alignment helps us notice what is unspoken, besides what is actually being said. Mercury and Pluto in aspect increase our capacity to tune into the undercurrents of what is taking place, sharpening our perceptions of non-verbal cues such as body language and subtle changes in speed or tone of voice.
Mercury is also very close to the North Node of the Moon in Taurus, which is currently in between Mercury and Uranus. The Mercury-North Node alignment emphasizes the importance of consciously expressing Mercurial functions, as these will help us detach from patterns and attachments that are holding us back from growing and evolving. This aspect highlights the value of critical thinking, discernment, and versatility paired with practicality, reminding us of investing our mental energy and focus wisely.
To help you harness this energy New Moon in Gemini rings we have created New Moon in Gemini printable channeled "The Power of the Mind" journal and guided meditation audio. We invite you to use these New Moon in Gemini Ritual tools: journal and meditate together with Moon Omens Soul Family. Tap here to learn more and gain access to ritual tools.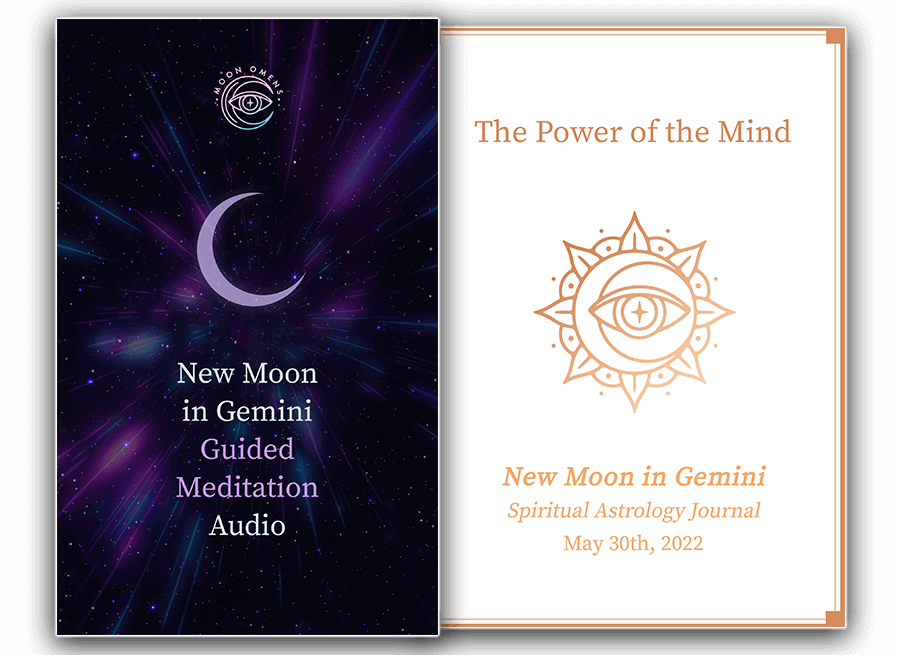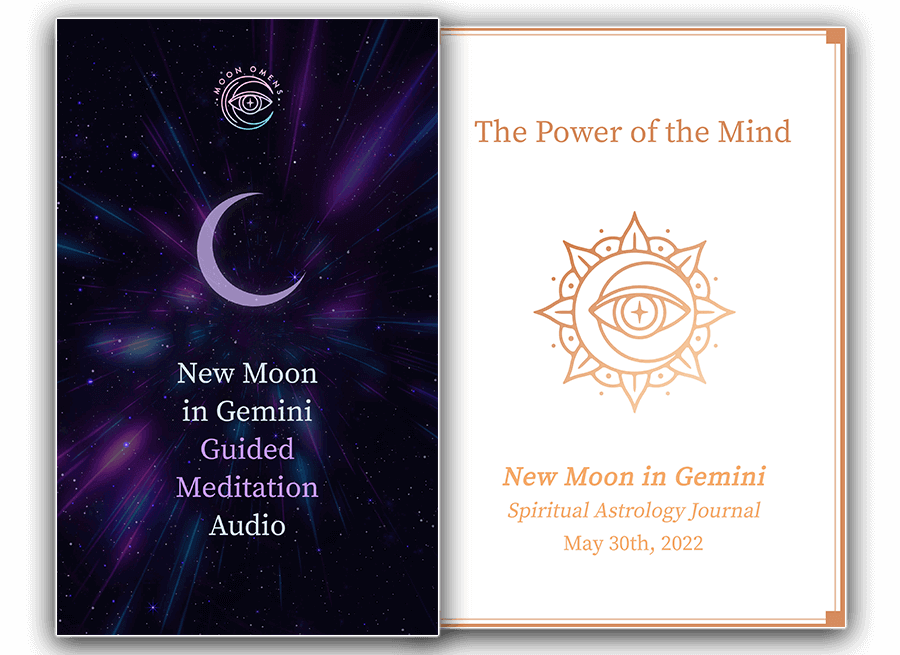 New Moon in Gemini: Opening up to New Perceptions
The New Moon in Gemini inspires us to explore new ways of perceiving reality, new ways of thinking, communicating, and interfacing with our environment. Gemini thrives in situations with an abundance of variety. When this sign is emphasized, we need stimulation, we need many options, we need different outlets for our abundant mental energy. Whatever stimulates our interest and our intellect, even distractions, could end up bringing us new opportunities, more inspiration, and exciting ideas. However, it is important to take care of not getting excessively scattered and wasting our energy by indulging in gossip or consuming information that doesn't add any value to our lives.
These days represent a favorable moment to begin new learning endeavors, embark on a new cycle of studies, a new course or activity that requires intellectual curiosity, commit to learning to play an instrument or improve our writing or public-speaking skills. During this upcoming lunar cycle, we are being encouraged to not be afraid to take things lightly, to dare to experiment, make mistakes, and try again. 
The Gemini New Moon invites us to expand our social network, to be open to conversations and debates with people who think differently than us, who have different interests, who have been through different experiences, and allow our lives to be enriched by these connections.
Comment below with what resonated with you the most and tap on the heart if you enjoyed this article!