On October 29, 3:22 PM ET, Mercury leaves Libra and enters Scorpio after an extended stay in the sign of the Scales due to its retrograde cycle. 
Mercury in Scorpio reflects an inclination to research, observe carefully, and deepen into how things function before we speak or share what we think and feel. This transit promotes and supports a deepening in our psychological awareness, emotional nature, hidden intentions and motivations, as well as a more profound understanding of how other people function.
Mercury remains in Scorpio until November 17, increasing the emphasis on the sign, where the Sun, Venus, and the Lunar South Node are already transiting. 
Mercury in Scorpio: Empowerment through Changes in Mindset
Scorpio is a Yin, Fixed, Water sign, and like all Water signs is connected with the emotional body. It correlates to transformational processes that require us to let something die in order to create space for something else, more aligned with our path's unfolding. Mercury, the ruler of Gemini and Virgo, has to do with the mind, the intellect, and rationality. The Messenger correlates to how we learn, solve problems, organize, communicate, and deal with daily tasks and obligations.
 The transit of Mercury through Scorpio has the potential to clearly show us how we can empower or disempower ourselves through our thinking, and how thoughts and emotions are intertwined and feed each other all the time. Mercury's journey through the sign can be an opportunity to explore what needs to shift in our relationship with our emotions to establish solid changes in our mindset, and vice versa, what needs to change in our mindset to establish lasting changes in how we deal with emotions.
Mercury has a Prominent Role during the Upcoming Lunar Eclipse
Mercury is going to be prominently placed during the upcoming Lunar Eclipse in Taurus, taking place on November 8. The Messenger will be in the heart of the Sun and close to the Lunar South Node, opposite Uranus and the Moon. We will experience a potent Sun-Mercury cazimi in Scorpio together with a tight Moon-Uranus conjunction, all on a Lunar Eclipse conjunct the North Node. Revelations, downloads, sudden insights, and new information becoming available at this time could be key for us to move forward, opening new doors, providing opportunities, and quickening the pace of our growth. 
A strong sense of restlessness, erratic energy, nervous tension, and need for speed are also likely. While, on the one hand, the Sun-Mercury cazimi in Scorpio indicates an incredible capacity to focus and concentrates our intellectual powers, the involvement of Uranus and the Moon reflects a more scatter-brained quality as well as a tendency to dissociate, detach from our bodies, and lose ourselves in the realms of the mind, future visions, and possibilities. Technological breakdowns, breakthroughs, and new discoveries are likely around this time. This configuration supports our attunement to future trends and currents, indicating higher chances for sudden revelations and ideas that can bring forth significant innovation.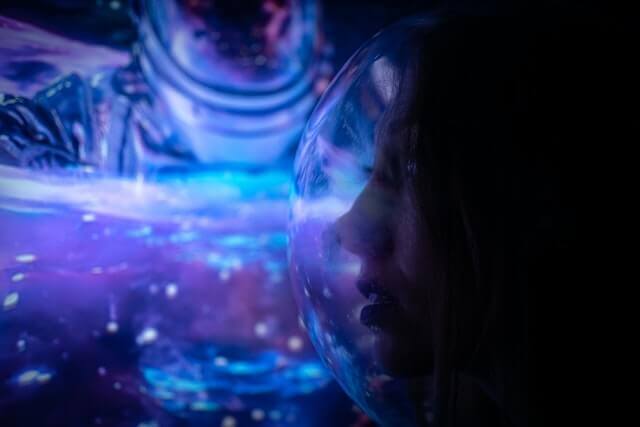 The Mercury-South Node conjunction can be an opportunity to recycle old ideas or transform projects we began in the past into something new, more attuned to the direction we are going toward. The Moon-Mercury opposition invites reflection on our relationship with memory, how memory can be distorted by emotions, and how emotions affect our perception of reality. It highlights the challenges of communicating our inner experiences and sensations in a way that gives to others a clear picture of them, without being either excessively rational or excessively emotional.
Mercury in Aspect to Saturn, Neptune, Jupiter, and Pluto
During its journey through Scorpio, Mercury is going to square Saturn, trine Neptune, trine Jupiter, and sextile Pluto. The square between Mercury and Saturn in Aquarius goes exact on November 10 and will be already active on the Eclipse. Mercury activates the Saturn-Uranus square, emphasizing the tension between our desire to break free from obsolete outdated thinking patterns and the pull of internalized conditioning holding us back from doing so. This is a good time to ponder and reflect upon how we may unconsciously contribute to silencing or censoring ourselves, and how our relationship with our voice and speaking our truth has been changing.
 The Mercury-Neptune trine involving the signs of Scorpio and Pisces, exact on November 12, facilitates artistic inspiration and creativity and increases our imagination. Storytelling and writing may be particularly inspired these days. Our intuition will be strengthened, and so will our capacity to translate into language the information we receive through sensations, psychic sensitivity, and energetic awareness.
Mercury forms a sextile to Pluto in Capricorn on November 15. Pluto is the modern ruler of Scorpio and this symbolism maximizes the Scorpionic powers of Mercury. Mercury sextile Pluto is an aspect motivating us and facilitating productive action aimed at penetrating into the depths of our subconscious minds and finding out the root cause of our patterns and habits, to gain a more complete understanding of our psychology, desires, and motivations. Finally, on November 16, we experience a Mercury-Jupiter trine, also in Scorpio and Pisces, a tremendous influence for all learning pursuits, teaching, and sharing of information and ideas through different channels. 
Mercury in Scorpio: Power of Persuasion
Mercury's journey through Scorpio increases our powers of persuasion, our intuitive skills, and our desire for depth of connection and conversation. It reflects an inclination to expose the truth and be transparent even when it's extremely uncomfortable. This transit offers us an invitation to reflect upon how other people's values influence our thinking, how our intimate connections and bonds contribute to shaping our perception of reality, and how the way we think and perceive sexuality affects our experience of it. During the upcoming weeks, we may ponder upon our relationship to trust, question what trust means to us, and what contributes to building a foundation of trust in our connections. 
Our way to relate with and make sense of experiences of betrayal and abandonment may also be in the spotlight. Mercury's journey through Scorpio offers us chances to reframe the way we perceive feelings of betrayal and abandonment by integrating a deeper understanding of ours and others' psychology, facilitating opportunities to see our inner and outer experiences in a different light.
Comment below with what resonated with you the most and tap on the heart if you enjoyed this article!