On November 13, 07:36 PM ET, Mars finally stations direct at 15° Aries, after being in an apparent backward motion, from our perspective on Earth, since September 9.
Mars has been in Aries since June 27, 2020, and will enter Taurus only on January 6, 2021. Aries is one of the signs where Mars is at home: for this reason, we are being blessed with incredible willpower and stamina until the end of the year. Our capacity for decision making, our energy levels, our courage, and our vitality will be highly supported.
We now have a wonderful opportunity to use the precious wisdom we gained while Mars was retrograde to take concrete and focused action. Now, it is time to make important decisions, to move forward fearlessly, to open new paths, and to dare completely reinvent ourselves.
Mars in Aries 2020-2021: the Hero's Journey
During 2020, the Red Planet's journey through his home sign has been much longer and different than usual. Mars normally spends about six weeks transiting a Zodiac sign, but this year he has been retrograde for two months. This retrograde takes place once every two years, yet it doesn't happen often while Mars is the sign he rules: the last time a retrograde cycle in Aries took place was in 1988.
Mars retrograde can be harder to deal with if we compare it to other retrogrades: Martian energy is directed outwards and forward moving. The Red Planet is impatient and does not enjoy holding back his strength and power. When Mars functions are internalized due to the retrograde, it can cause a significant amount of frustration and inner tension: anger can be more easily misplaced or get out of control, especially when the transit happens in a sign like Aries.
Yet, we made it all the way through and to the other side. We are now being blessed with a fiery, passionate, and fierce energy until the rest of the year. During the upcoming months, Mars will motivate and inspire us to make progress, to grow, to get out of stagnation, and closer to our goals and dreams.
Mars stations Direct: Facing our Fears & Moving Forward
Mars is the planet related to how we assert ourselves, how we instinctively take initiative, how we attack, and how we defend. Mars correlates to our conscious desires and to the way we go after what we want. The traditional ruler of both Aries and Scorpio, this planet rules action without forethought, pure impulse, willpower, and strength.
While Mars was retrograde, we had the chance to come into contact with our vulnerability, to become aware of our insecurities, of our protection mechanisms, of what keeps us disempowered and doesn't allow us to act and move forward as we would like to.
We now have the chance to take action from a deeper level of self-awareness and implement meaningful changes that will bring us deeper in our self-discovery journey.  Mars in Aries is pure Cardinal Fire, and his purpose is to empower us by helping us face our fears and move forward.
Mars square Jupiter, Saturn, and Pluto: Resolution and Completion
During the last four months, the ongoing squares between Mars in Aries and Jupiter, Saturn, and Pluto in Capricorn have been adding even more intensity to the fire: they have been testing our patience, our willpower, and our self-control since August.
Mars already formed two exact squares with each of the three planets in Capricorn, one while he was direct and one while he was retrograde, and we will soon experience the last round of squares. The last exact alignments are perfecting in December and January.
Mars squares Pluto for the last time on December 23 and will square Saturn and Jupiter on January 13 and 23. In January, Mars will be in Taurus while both Saturn and Jupiter will be in Aquarius. As a significant amount of energy is shifting from an Earth to an Air sign, these aspects have the potential to bring us very interesting opportunities, as well as a sense of clarity and completion around issues that first emerged during August.
Mars stations Direct: Reinventing Ourselves & Opening New Paths
Mars is our inner fire, our passion, our sexual desire: as he stations direct, the invitation is to trust our gut, without being afraid to take action, to open new paths, to dive into something we are passionate about.
We are now in the final phase of a deep and radical transformation, and we need to take action according to what we envisioned while Mars was retrograde. We can't hide anymore: we need to take a leap of faith, we need to take risks and show up fully. Mars direct in Aries is supporting our evolutionary journey and urging us to face our fears, to dare become who we truly are, without being afraid to shine.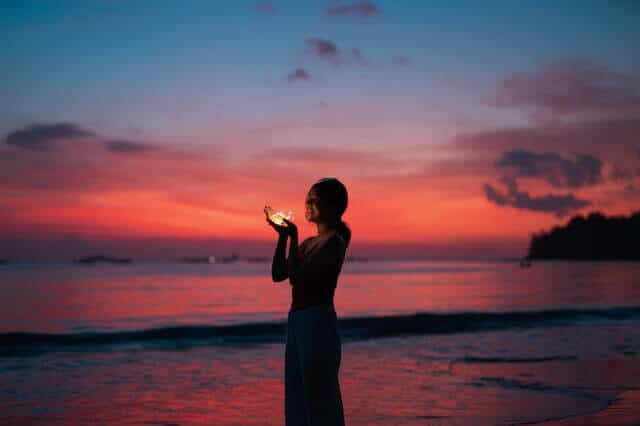 "Our deepest fear is not that we are inadequate. Our deepest fear is that we are powerful beyond measure. It is our light, not our darkness that most frightens us." – Marianne Williamson.
Mars stationing direct in Aries is an invitation to stop hiding, stop making ourselves smaller, stop shrinking to make others feel more comfortable. Mars in Aries wants us to reclaim our right to exist, to thrive, and to take up space.
This transit is blessing us with more energy, willpower, and vitality: its purpose is to encourage us to step into greater self-confidence and self-trust, to reinvent ourselves, and to start a brand new chapter of our life without looking back.
Comment below with what resonated with you the most and tap on the heart if you love this article!