On December 18, 11:35 PM ET, the last "Full Cold Moon" of the year takes place at 27°28' of the sign of Gemini. This Full Moon is the first lunation in the sign that is not an Eclipse since 2020, and it is inviting us to reclaim the power of our attention, thoughts, and words.
We are reaching the maturation point of a six-month cycle that began on June 10, 2021, with a New Moon Solar Eclipse in Gemini, but we are also culminating the shorter cycle that began two weeks ago, with the Total Solar Eclipse in Sagittarius. The Full Cold Moon closes the Eclipse portal and the calendar year, bringing strong energy of culmination and closure.
During this time, the intentions we set on these two New Moon Solar Eclipses can manifest and blossom. We have a chance to reap the rewards of our efforts, witness the results of our work, and gain more clarity around something that was still uncertain. 
To celebrate the arrival of Full Moon Gemini, on December 17, 9:45 PM ET, we are hosting Global Live Full Cold Moon Meditation on our YouTube channel. We invite you to join us, and invite others to meditate together with us. Tap here to find our scheduled live meditation.
On December 19, 9:00 AM ET, we will be hosting live Full Cold Moon Energy Update & Q&A on our Instagram @MoonOmens. We invite you to tune in and have a good time together!
Full Cold Moon in Gemini: End of Year Reflections
Full Moons are times of emotional intensity and deep feelings, characterized by moments of revelation, breakthrough, and understanding, unfolding during the course of a few days. Full Moons always imply an opposition between the Sun and the Moon, an aspect that reflects some tension between the rational and the emotional, the conscious and the unconscious, the private and the public, the certain and the uncertain.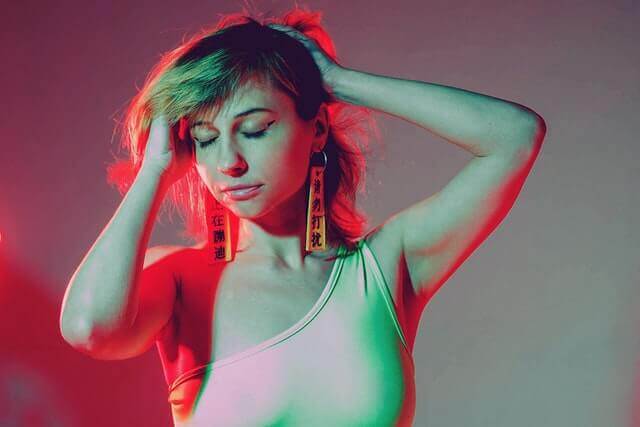 The Full Moon taking place in December is also popularly known as the Cold Moon, due to its proximity to the Winter Solstice in the Northern Hemisphere of the globe. This is a time of introspection, withdrawal, and retreat, particularly for those of us who live in places where temperatures are dropping. Nonetheless, the end of the calendar year tends to be a moment of reflection for everyone on the planet. At this time, we are inspired to look back at what we have been through, contemplate our choices and actions, evaluate what we desire to continue, what we desire to let go of, and what we commit to improving.
Full Moon opposite the Galactic Center: New Awareness
Currently, the Sun is in Sagittarius and the Moon is in Gemini: their alignment brings to maturation a learning cycle, and it could mark a substantial change in our perception of reality. 
The Sun is conjunct the Galactic Center, placed at approximately 26-27 degree of Sagittarius. When planets are transiting over this point in space, marking the center of our Galaxy, they can trigger a significant acceleration of our evolutionary processes. It is said that planets conjunct the Galactic Center can facilitate the emergence of new spiritual awareness: they may bring sudden downloads and intuitive insights and initiate a process of awakening that can ripple in every area of our lives.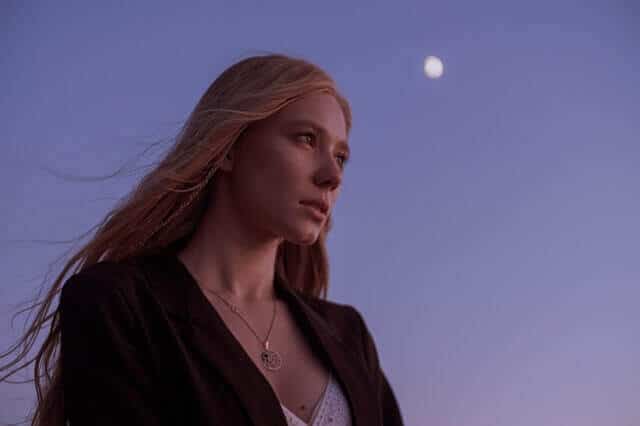 This Full Moon in Gemini will energize our minds and speed up our thought processes, possibly making us prone to overthinking and overanalyzing our emotions, feelings, and actions. During these days, information previously unknown, uncertain, or unavailable may come to light or be shared with the public. The data revealed and exposed could have a significant impact on our opinions, worldviews, beliefs, and perceptions, generating lasting changes in how we see reality.
Full Moon square Neptune: Extreme Openness and Sensitivity
The Sun in Sagittarius and the Moon in Gemini are forming a T-square pattern to Neptune in Pisces. Whenever planets are in a challenging alignment to Neptune, they suggest difficulties integrating an extreme openness to what's happening in our environment. Feeling the emotions and sensations of others as if they were our own is a very common experience.
Particularly, when the Moon and Neptune are in a hard aspect, our sensitivity has no boundaries: it's vital that we learn to distinguish between what is ours and what is not, and that we don't take responsibility for others' feelings and projections. The Sun square Neptune, on the other hand, may suggest some difficulties defining our identity, as well as a sense of lack of purpose, confidence, and vitality. Nonetheless, this alignment maximizes our empathy and artistry and increases our capacity to creatively express something that can feel relatable to everyone.
We currently have celestial bodies transiting all Mutable signs except one, Virgo. The archetype that is not being activated by the T-square pattern indicates qualities and traits we need to gravitate towards in order to find more balance. A crucial lesson related to the Virgo archetype is being discerning relative to what we take in and what we allow into our energetic field. This configuration emphasizes the need to remain grounded in the material reality and in our bodies, to honor the work we need to complete, and to maintain healthy routines and habits.
Full Moon trine Jupiter: Open-mindedness & Intellectual Expansion
The Moon in Gemini is trine Jupiter in Aquarius, an aspect that promotes an objective and optimistic approach to emotional matters, facilitating open-mindedness and intellectual expansion. This alignment increases our desire to explore different ways of perceiving reality and supports our capacity to interpret in an optimistic and growth-oriented light what is happening around us and to us.
The Moon in Gemini tends to deal with emotions rationally, while Jupiter has the capacity to find the lesson and the higher meaning of everything we may go through. As the Moon-Jupiter aspect is taking place in Air signs, it can be considered an opportunity to take a step back and evaluate our situation from a distance before we react, to try to see what is bothering us from another vantage point. 
During these days, we may have important insights that help us understand how to better cope with difficult feelings and emotions. This alignment supports networking and cooperation, promoting an expansion of our social life: new encounters and connections may stimulate our mind and increase our capacity to find creative solutions to the issues we may be facing.
Mercury trine Uranus: Spontaneous Downloads & Innovative Ideas
Mercury, the planetary ruler of the Gemini Full Moon, is currently transiting Capricorn. This indicates a tendency to interpret new information in a practical way, to take with a grain of salt data that isn't proven by facts, and to not invest much energy in gossip or small talk. Mercury in Capricorn has a natural capacity to focus on intellectual tasks and to be disciplined with intellectual pursuits and learning processes. 
Mercury's trine to Uranus in Taurus is another aspect that can indicate new data coming to light and bringing new awareness. There could be a discovery of unexpected information, or spontaneous downloads coming out of the blue could help us solve a problem we have been struggling with. This process has the potential to generate innovation and lasting, tangible results.
Venus stationary retrograde & conjunct Pluto: Transformation of Relationships
Meanwhile, the Venus-Pluto conjunction in Capricorn intensifies our experience of relationships: the stage is set for the upcoming Venus retrograde, starting in just a few hours. Venus being stationary retrograde indicates that the planet of love, beauty, wealth, and receptivity represents a powerful player during this lunation. Relationship matters and intense encounters could already occupy a large portion of our attention, especially for those of us who have personal planets or angles around the 26 degree of Cardinal signs Aries, Cancer, Libra, and Capricorn.
The conjunction of Venus and Pluto increases the possibility of experiencing romantic obsessions and particularly passionate connections or breakups. Due to Venus stationing retrograde, people from our past could come back to allow us to solve something that hasn't been previously concluded. We may be able to understand the patterns, dynamics, and unconscious complexes behind the whole story. A deep and lasting transformation of the way we experience relationships, of our values, of our taste, of our artistic expression, and of our way to relate to money is about to begin.
To help you harness this energy Full Cold Moon in Gemini brings we have created Full Moon printable channeled "The Power of Thoughts" journal and guided meditation audio. We invite you to use these Full Cold Moon Ritual tools: journal and meditate together with Moon Omens Soul Family. Tap here to learn more and gain access to ritual tools.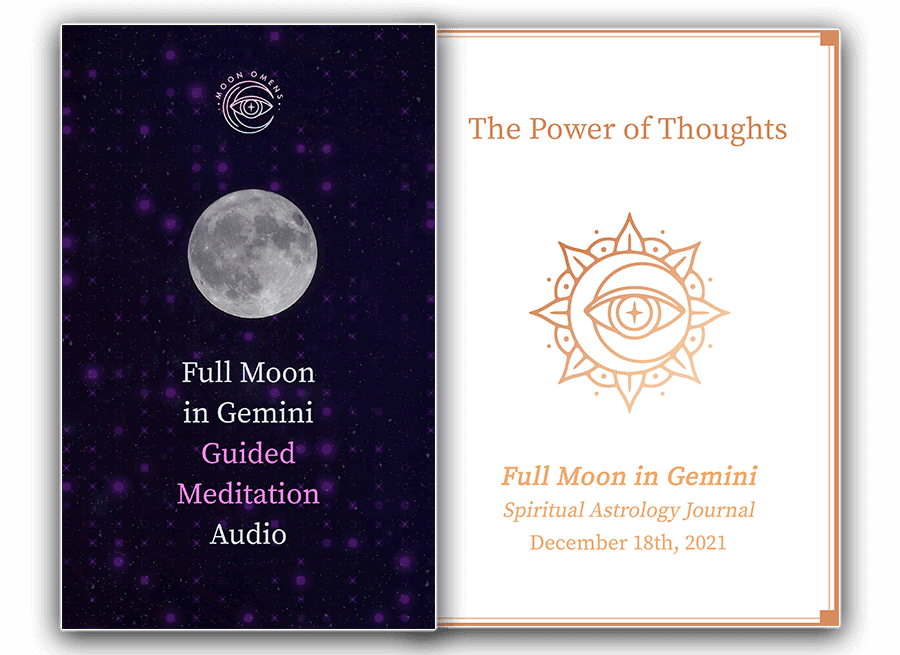 Full Cold Moon in Gemini: Mastering our Thoughts
During the rest of the current lunar cycle, we are being encouraged to detach from old stories playing out in our heads, to release distractions, and carefully evaluate what type of information we take in. By becoming more conscious of the importance of the words we use, the kind of ideas we dwell on, and the influence that other people's opinions have over us, we have a possibility to unlock new levels of awareness and let go of thinking and speaking habits that aren't serving our highest good.
This Full Cold Moon in Gemini will inspire us to question our perception of reality, change how we habitually communicate with others, and work on mastering our thinking patterns. We may start doubting a narrative we have been encouraged to believe, and the questions emerging now may contribute to ideas and insights that could lay out a new foundation for our future.
Comment below with what resonated with you the most and tap on the heart if you enjoyed this article!